Wheelbarrows
Wheelbarrows, with their single front wheels, were originally designed for navigating on planks around construction sites. Their downfall for homeowners is that they force you to lift the load with your shoulders, back, and legs...which is exhausting. In addition, it's hard work trying to balance the load on that single front wheel. Also, moving a loaded wheelbarrow on rocky, uneven ground is like running an obstacle course! Hit one rock or deep rut with the small front wheel and the whole load pitches over!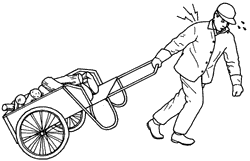 Garden Carts
Big Wheels Garden Carts were a big improvement over wheelbarrows because they put the load over the wheels. But they are easy to overload and they are hard to move up or down hills...plus, their skinny wheels sink easily in soft soil. Garden carts can also "run away" downhill with a load. The strain of holding them back is almost as bad as hauling loads uphill with them!

Garden Tractors with Trailers
Riding Tractors and Tow-behind Wagons are the most commonly-used powered haulers, but they have some real drawbacks. Lawn tractors are designed to mow. They quickly lose traction when you attach several hundred pounds behind them. Going onto any kind of slope is risky. And when it comes to backing up...forget it!