Ordinary Chipper/Shredders...
These machines, with their separate chambers for chipping branches and for shredding smaller material, generally have one common problem...they're underpowered. If you've ever used one you know how frustrating they can be - they vibrate tremendously, clog easily, and can be very slow. Plus, with landfill restrictions, the challenge in most areas is getting rid of woody material...the toughest job for any chipper/shredder.
The DRŪ CHIPPER, on the other hand, is a chipper only. Its simple, straightforward design allows it to do one job very well - chip woody material, large or small. Whether it's bundles of small branches all at once or whole trees up to 4-1/2" in diameter, the DRŪ has the power to tackle most any chipping job...and it will do it faster than any chipper for homeowners that we know of.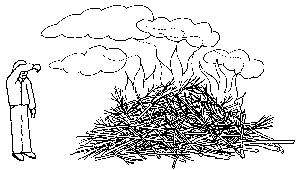 Burning...
Burning brush can be quite dangerous, which is why you need a permit in most areas. And dependent on the weather conditions, you may not be issued a permit for months...if at all. Plus, even if you do get a permit to burn, when you're done you will still be left with a big mess of ashes and charred material that didn't burn completely.